A unique guest house designed for deep peace, quiet, and creative spiritual practice
The friendly, open and warm character of Loose Leaf Hollow sets it apart from larger retreat facilities. It is truly "a space for grace" where you can relax, reflect and re-energize your soul!

LOCATION
Only 45 minutes from Louisville, 25 minutes from Gethsemani, and only 10 minutes from Bardstown — Loose Leaf Hollow is easily accessible, yet quite secluded.

SURROUNDINGS
Bordered by gorgeous Bernheim Forest, Loose Leaf Hollow has a grace and beauty all its own, and will be a tonic for both your senses and soul.

AMENITIES
Loose Leaf Hollow has a full kitchen, library, and a beautiful zendo for meditation. It can accommodate six guests and is suitable for over-night, weekend, and longer solitary retreats. A separate hermitage ("Ti Hollow") is available for a more solitary retreat.
It's a really simple process—I get up about
four in the morning, have a cup of coffee,
and then go to the zendo and sit.
And after sitting, I write.
Just bringing forth whatever's within.
And later, I listen to what I wrote
with the ear of the heart.
The only way I know how to "true" a poem
is by ear, and by heart.
The heart knows what's true—
and I listen with it.
And then I just whittle away everything
that isn't true.
Whatever's left on the page—is the poem du jour.
Then somehow, mysteriously, the poem "trues" me.
Every time I went to the Homewood Theatre in the 50s to see a movie, I would always buy a box of Black Crows. There was something about that perfect blend of bitter and sweet that attracted me, even as a young boy. This morning there were three black crows pecking...
read more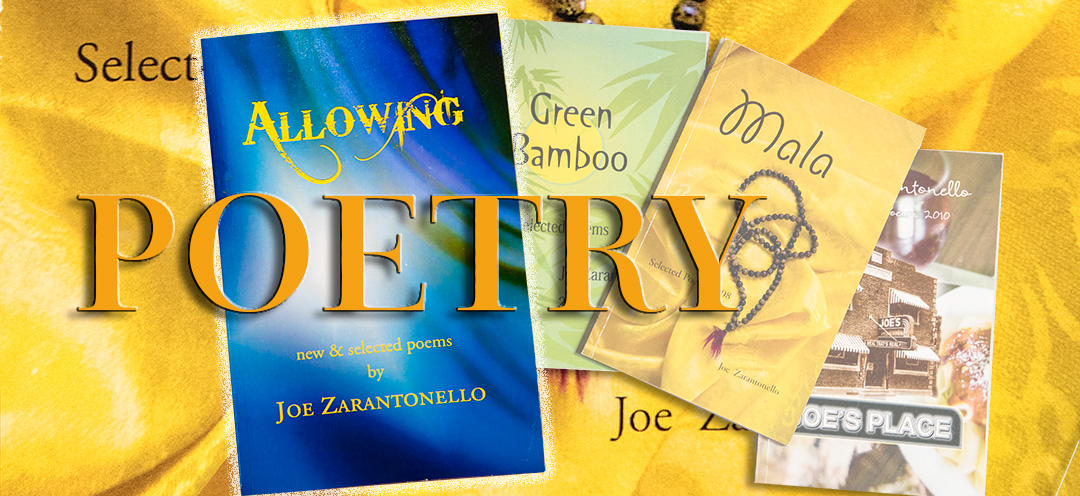 Featuring Selected Poems from his first three books, and 45 new poems, ALLOWING is Joe's 4th book of poems.
To purchase a copy of ALLOWING via USPS, mail a check for $20 (plus $3 S&H) payable to Joe Z at:
Joe Zarantonello
250 Loose Leaf Dr
Bardstown, KY 40004
Or order online with PayPal
THURSDAY NIGHT MEDITATION
On Thursday Nights, from 7-8:30, Loose Leaf Hollow is open to all who want to practice sitting meditation. We normally have two sitting periods with a walking meditation session in between.
The sessions are free and open to the public.
The friendly, open and warm character of Loose Leaf Hollow sets it apart from larger retreat facilities. It is truly "a space for grace" where you can relax, reflect and re-energize your soul! Reflections on breakthrough retreats by the participants
By the end of The Breakthrough, my spirit is feeling clean, fresh and soft — just the way my skin and hair feel after being washed by a summer rain shower. The Breakthrough provides a safe place where the storms of my life feel free to erupt and clear out — making space for a new view to arise.
Barbara Yarbrough
Breakthroughs are a vacation for my Spirit! A Breakthrough is an opportunity to 'rend another veil or two' in order to get closer to Truth, to God, to the Kingdom Within. It is where I can practice 'Being' and 'quiet reflection' without interference from the routine of my life. Breakthroughs help me deepen my life experience.
Maria Russo
Attending a Breakthrough is like getting your hands deep into the early spring earth. All year, you have been immersed in life around you, but it's not until you step out into the miracle of new life that you sense the depth of your own connections. You'll never have another experience like 'The Breakthrough'.
Linda Daley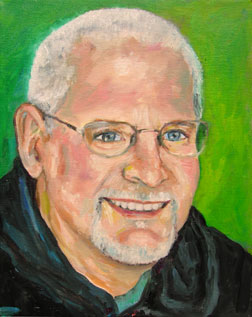 ABOUT
Joe Zarantonello is a teacher, poet and meditation instructor. Joe's undergraduate degree is from the University of Notre Dame where he majored in The Great Books. His M.A. is from University College Dublin, Ireland where he studied Anglo-Irish Literature and Drama.
Joe and his wife, Pam, began co-creating Loose Leaf Hollow in 2002 as a guesthouse for contemplative retreats. In 2013, a small hermitage, called "Ti Hollow," was added to offer a place for deeper solitary retreat.
(Portrait of Joe by Margo Delaney Hite, BFA)
To schedule a Retreat or for more information:
502-348-0201
Loose Leaf Hollow
250 Loose Leaf Drive
Bardstown, KY 40004